Surya (Sun)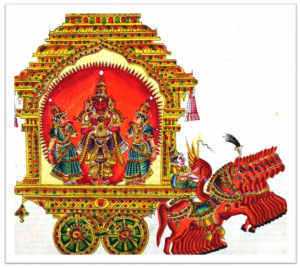 Surya (Sun): Whole wheat for daan (offering), Red color, center facing East
Identifications: He has hair and arms of Gold. His chariot is pulled by 7 horses
Afflictions: heart, eyes, upper back and spine, aorta and blood circulation
Presiding deity: Siva
Chandra (Moon)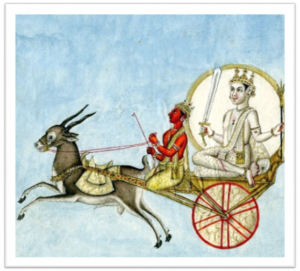 Chandra (Moon): Rice for daan, White color, South east facing of Sun
Identifications: Chandra is also known as Soma. He is described as young, beautiful, fair; two-armed and having in his hands a club and a lotus. He rides his chariot - the moon - across the sky every night, pulled by ten white horses or an antelope. He is connected with dew, and as such, is one of the gods of fertility. As Soma he presides over Somavaaram or Monday
Afflictions: Represents mind
Presiding deity: Lakshmi
Mangal (Mars)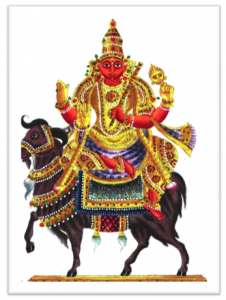 Mangal (Mars): Bengal Gram, Red color, facing South
Identifications: He is painted red or flame color, four-armed, carrying a trident, club, lotus and a spear. His Vahana (ride) is a ram. He presides over 'Mangala-vaara' or Tuesday
Afflictions: Energetic action, confidence and ego
Presiding deity: Hanuman
Budha (Mercury)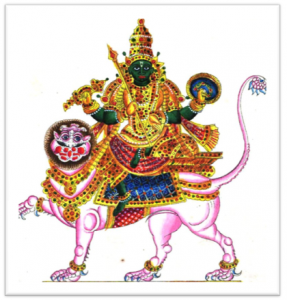 Budh (Mercury): Green Gram, Green Color, facing North East
Identifications: He is represented as being mild, eloquent and of greenish color. He is represented holding a scimitar, a club and a shield, riding a winged lion. In other illustrations, he holds a scepter and lotus and rides a carpet or an eagle or a chariot drawn by lions.
Afflictions: He is the god of merchandise and protector of merchants. He is of Rajas Guna and represents Communication.
Presiding deity: Vishnu
Guru (Jupiter)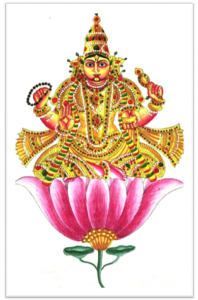 Guru (Jupiter): Indian Yellow Split Peas(Kabuli chana), Yellow color, Facing North
Identifications: Guru is usually depicted with an elephant or chariot drawn by eight horses as his vehicle. He is also depicted in a lotus flower
Afflictions: Knowledge, eloquence, wisdom
Presiding deity: Siva
Shukra (Venus)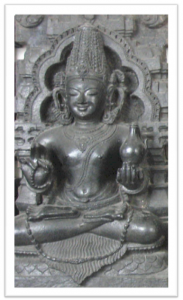 Shukra (Venus): Soya Gram, white color, facing East
Identifications: He is of white complexion, middle-aged and of agreeable countenance. He is described variously mounted, on a camel or a horse or a crocodile. He holds a stick, beads and a lotus and sometimes a bow and arrow.
Afflictions: clear, bright, pure, cleanliness, Pleasure
Presiding deity: Lakshmi
Shani (Saturn)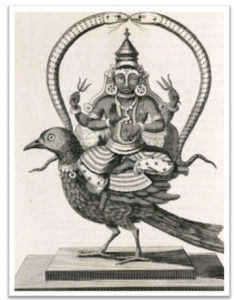 Shani (Saturn): Mustard Seeds, blue color, facing west
Identifications: He is depicted dark in color, clothed in black; holding a sword, arrows and two daggers and variously mounted on a black crow or a raven
Afflictions: Hard and slow to achieve, Career, Longevity.
Presiding deity: Vishnu
Rahu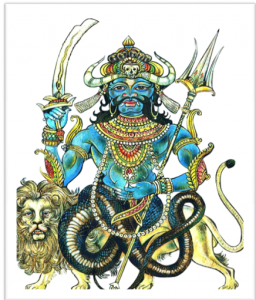 Rahu (North Node): Black gram, Black color, facing South West
Identifications: He is depicted in art as a dragon with no body riding a chariot drawn by eight black horses.
Afflictions: Chaotic
Presiding deity: Hanuman
Ketu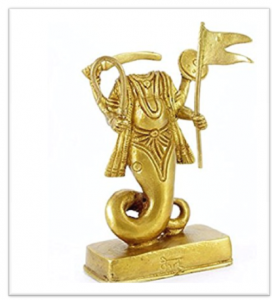 Ketu (South Node): Horse gram, Multi color, facing North West
Identifications: He is considered as Tail of the Demon Snake
Afflictions: Opposite of Rahu. Can sometimes help in achieving fame.
Presiding deity: Hanuman