Makara Sankranti:
Transition of Sun to Makara rasi (Capricorn). From this day the length of the day begins to increase.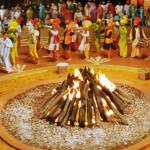 Lohri ( Punjab )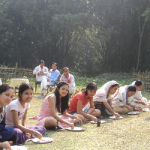 Bihu (Assam)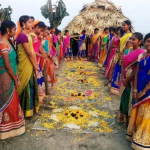 Bhogi (South India)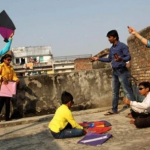 Kite Flying (Deccan)
Vasant Panchami (Saraswati Pooja):
Fifth day of Magha (Hindu calendar)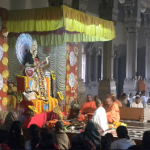 Saraswati Puja (W. Bengal)
Mahasivaratri:
14th night of the new moon Phalgun (Hindu Calendar)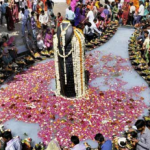 North India
Bathing Shiva Linga with milk
Holi:
Full Moon of Phagun. The day Lord Vishnu slayed the demoness Holika to save his devotee Prahalada.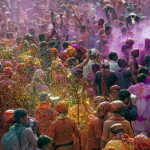 North India
Festival of Colors
Rama Navami:
Ten day celebration of the Birth of Rama starting from Chaitra Saptami to Bahula Padyami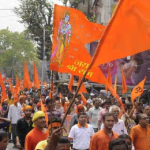 Celebrating the Birth of Rama
Hanuman Jayanti:
Celebrating the birth of Hanuman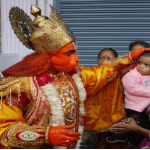 South India
Person representing Hanumam blessing the crowd
Guru Purnima:
Celebrating the Birth of Vyasa and honouring your teacher (Guru).
Worshiping the Guru at Jagganath Puri
Krishna Janmastami:
Celebrating the birth of Lord Krishna on Rohini nakshatra on the 8th day of the waning moon in the month of Bhadrapada.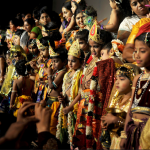 Celebration of the Birth of Lord Krishna
Ganesh Chathurthi:
Celebrating the arrival of Ganesh on the 4th day of the waxing moon in the month of Bhadrapada.
Procession of Ganesh for immersion -- Southern India
Navarathri:
Celebrations for 9 days worshiping each of the 9 forms of Shakti each day. Begins on the new moon day to the 9th moon day in the month of Ashvin. The different forms of Shakti are Durga, goddess beyond reach; Kali, the auspicious power of time; Amba or Jagdamba, mother of the world; Annapurna,giver of food and plenty; Sarvamangala, auspicious goddess; Bhairavi, terrible, fearful, power of death; Chandika or Chandi, violent, wrathful, furious; Lalita, playful; Bhavani, giver of existence; Tara, giver of success in work.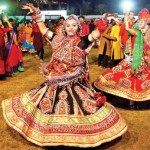 Colorful dandia in Gujarat -- Western India
Vijaydashami/Durga puja:
Celebration of good over evil on the 10th day of the waxing moon.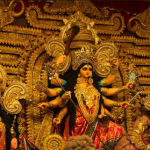 West Bengal
Deepavali:
Celebrating the return of Lord Rama from exile on the new moon of Ashvin. Festival starts on the  darkest night Amavasya in the calendar month of Ashvin and the start of the new month Kartika.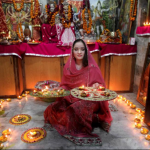 North India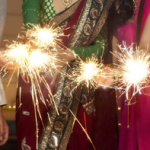 Deepavali/Deewali/Divali Fireworks
Viswakarma:
Honouring Brahma the creator and his creations. This is around a fixed date of September 17th when the Sun transits from Singha (Leo) to Kanya (Virgo)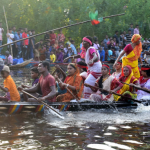 at Gopalgunj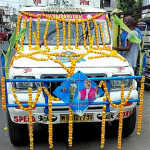 worshipping ones Professional tools